Trackademicks In SFBG "Best Of The Bay"
Posted on Jul 30th, 2009 in Awards > Live by Mr. Goldbar
Huge shout to our very own Trackademicks, who was named "Best Hip Hop Act" in the San Francisco Bay Guardian's 2009 Reader's Poll, a nice follow up to his 2008 win in the SFBG Goldie Awards.
Congratulate him in person this Friday at 111 Minna in SF, where Track will be performing alongside Pase Rock and Dam Funk for the "Amplify" party. Flyer and info after the jump.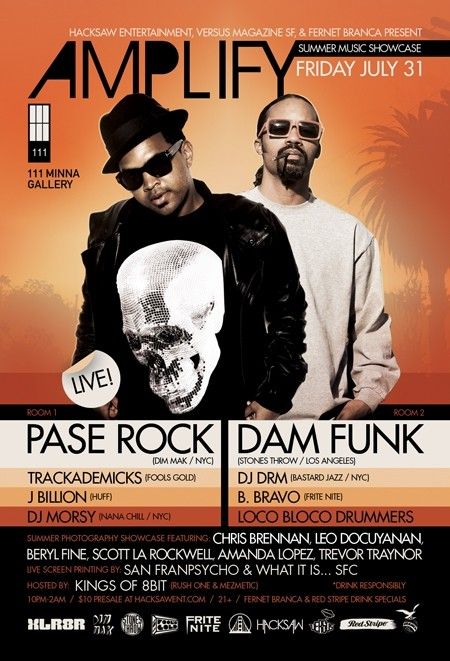 Friday, July 31st 2009
Hacksaw Entertainment, Versus Magazine SF, & Fernet Branca present:
AMPLIFY
Summer Music Showcase:
Pase Rock LIVE (Dim Mak / NYC)
Dam Funk (Stones Throw / LA)
Trackademicks (Fools Gold / Oakland)
DJ DRM (Bastard Jazz / NYC)
J Billion (Huff / SF)
B Bravo (Frite Nite / SF)
DJ Morsy (Nana Chill / NYC)
Special live performance from the Loco Bloco Drummers
Hosted by Kings of 8Bit (Rush One & Mezmetic)
Summer Photography Showcase:
Chris Brennan
Leo Docuyanan
Beryl Fine
Scott La Rockwell
Amanda Lopez
Trevor Traynor
Live Screen Printing by San Franpsycho & What It Is… SFC