Summer 'O Sammy Tour Diary
Posted on Jun 24th, 2008 in Downloads > Live > Pics > Videos by Mr. Goldbar

Sammy live @ LAX
I'm done with the tour! I decided to wait until the end to provide the wrap-up, but hopefully people will actually read this, because its kind of long! I'll give a brief digest to start out so you know what your getting into:
– Summer of Sammy Tour = Serial Massacre i.e. Raging Success
– Cameos from Ayres, Alan and Eh'Life
– Run ins with border patrols, bikes and BEPs
– Triumphs of Celtics, Cesars and Cruisers
– Chilling with Diamonds, Daniels and Debonairs
– A mix classic gets re-released, this time for free
I'm gonna start off by saying that the main (if only) reason that I'm writing this blog is so that Certified Max can read it. I'm gonna lay this bro-love right out there in the open; Max and I have had some amazing times DJing around North America and I thought of him on innumerable occasions on this run. Hopefully at least he will read the whole thing!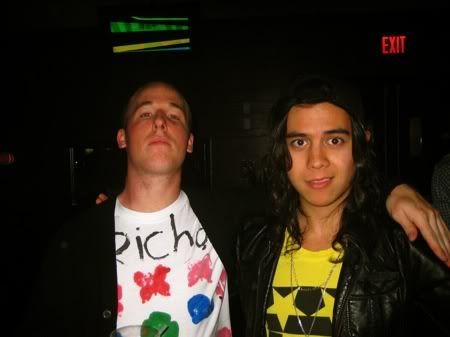 VANCOUVER:
I left NY late on wednesday to catch the overnight Cathay Pacific flight to Vancouver and let me offer you a word of advice: FLY THIS AIRLINE! Maybe it was because Hong Kong was the final destination of the flight, but this plane had the most tricked out coach section I've ever sat in AND there was a free hot meal and booze (Campari and soda please!). I think 1998 was the last time I was served dinner on an airplane. I arrived in Vancouver at around 2:30AM PST, just in time to wait in the empty immigration office for a full hour before someone processed my paperwork. I have a hunch they were trying to sweat me out, as I was the only person waiting and there were about 10 agents milling about doing nothing. Not to go into too much detail, but FG boss Mr. Catchdubs and I had a "misunderstanding" with the Canadian Border Patrol about 3 years ago and its made crossing into our northern neighbor a tad annoying. Nick and I actually had to wait about and hour and a half in the same Vancouver immigration office only a few months before on the Screaming Bloody Murder Tour, as all of our companions breezed on through. I finally made it to the 1/2 Alive Skid Mansion at around 4:30, ready for some ZZZZs. Shout to Tony X for waking up to let my ass in!
When I woke up around 11, I embarked on what was probably one of the best days in recent memory. I'm only going to give the highlight reel, but it involved Tyler Fedchuk making a kick ass salad, riding bikes to and around Stanley Park, playing 18 holes of pitch n' put, watching the Celtics make one of the biggest comebacks in NBA finals history in a bar full of celtics fans and DJing with Dana D and Alan Braxe. Raf from Team Canada also was in town that night and came through to catch a bit of my set.
Sammy B's Produce 'O the Day: Lime-dressed Avocado(pro move!) in Tyler's Salad
Biggest Chune of the Night: Metro Area – Dance Reaction (it was a mellow night)

SAN FRANCISCO:
I woke up on Friday and made a quick escape to the airport via one of Vancouver's extensive fleet of Toyota Prius taxis. After an uneventful flight, I landed in San Francisco and was picked up by the wonderful and courteous Alyson, who you might all remember from THIS infamous picture. We headed into the city, and made our first stop at La Taqueria, my favorite Burrito spot in this city of superb burritos. After that it was on to a quick pass through Buena Vista park (great views of the city, though it was foggy) and then to a happy hour in a really really dark bar. By the time we rolled to Rickshaw Stop, Blow Up was in full swing with a line around the block. Jeffery the promoter had mentioned that this party was good, but I sort of brushed off the comment until I actually was inside. The place was rammed with the 18+ers and everyone was going off. The second biggest musical surprise of the tour popped up in Cesar Paparazzi, the DJ playing before me. Cesar is from LA, and absolutely slayed the party. Moreover, the two of us have strikingly similar tastes in dance music. Anyone who drops Technotronic, Bizzarre Inc and Bucketheads is A-OK by me. I went all over with my set, but the crowd followed the whole way. Unfortunately, I don't have any video of the infamous swinging DJ table. The table was suspended from the ceiling and the stage was packed, so the result was something like playing on a boat in rough seas with a table on wheels.
Sammy B's Produce 'O the Day: Fresh Mango Drink at La Taqueria
Biggest Chune of the Night: Devo – Whip It

LA Day 1: QUALITY
Another half-awake trip to the airport had me on my way to my 4 day stop in Los Angeles. Now, I'm an LA hater. This goes beyond the fact that I'm a Celtics fan, that I live in NYC (LA's polar opposite?) and that I dislike warm climates. I also have a serious issue with celebrity fascination and and can't get with decentralized city planning. Also, the city is an ecological nightmare. So now I'll get down off my high horse and say that LA did me right on this, my second visit. I may not want to be with you forever, but at least I understand you now. Also, as this shot from the plane shows, you really are that big.
Once in LA, I picked up my silver PT Cruiser from Rent-4-Less (seriously dudes, why you gotta put the company name on the license plate…I'm the only one who needs to know that I'm cheap!) and headed to DJ Haul's house in Silver Lake. I arrived just in time to run in to legendary drum n' bass producer cum soundtrack composer PHOTEK finishing an interview with the infamous DJ Ayres. After a quick text to Max about this event, Ayres and I headed off to The Standard hotel downtown. The bouncer wasn't letting us in because we were neither on the list nor had long shapely legs and bikini bottoms, but Blue Jemz luckily came to the rescue. Jemz, Gina Turner and Mike B were all djing on the rooftop that afternoon, so Ayres and I chilled on some mod furniture. A brief note about the bathroom; it had this sink that was mounted at waist level in a wall between the girls and boys room. In order to start the water, you had to stick your hands through pretty far, so you might bump hands with a lady doing the same thing, or see some slender hands come onto your side as they search for the water. Best bathroom sink of the tour, hands (sic) down.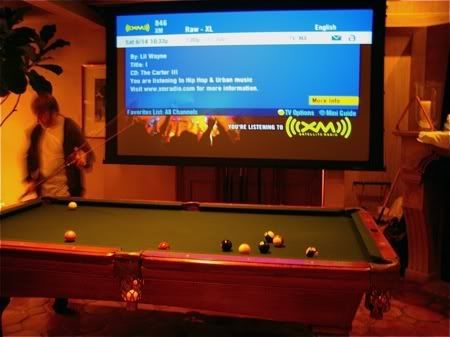 After grabbing some quick tacos, we headed to this extravagant Santa Monica crib to meet up with BK kingpin Ian Meyer. The landscaping at this house was next level and prompted a conversation about how the southern cali climate allows for crazy outdoor design seeing as it never is cold, windy, rainy, snowy or much of anything other than dry and hot. Entourage in tow, we rolled over to Club Zanzibar to get down at Quality, Haul and Mason's long running weekly jam. This party might as well be called "The Rub: West Coast" and turned out to be a huge amount of fun. I warmed the crowd up with some rap favorites, Ayres murdered the dance with the hits and Haul & Mason did their signature 4 turntable set displaying a keen sense of their home crowd. Unlike The Rub, the party ended at 1:55 sharp.
Sammy B's Produce 'O the Day: Chocolate Glazed Chocolate Donut after the club (not produce, but should be)
Biggest Chune of the Night: Ronnie Hudson – West Coast Pop Lock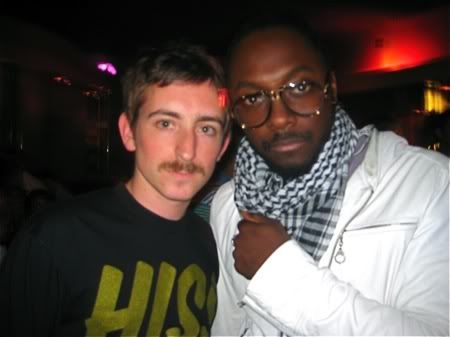 LA Day 2: BANANA SPLIT
Sunday morning began with me giving Ayres a ride to the airport so he could get back to Brooklyn for the last half hour of his first father's day (congrats again dude!) I continued on to the house of one of my mom's best friends, where I would crash the remainder of my time in the city. I dropped off my bags and headed out to Tito's Tacos in Culver City. If you ever go to LA and are down with pork, GO to this spot. They have these hard shell tacos that are fried with the meat in them, and then loaded with fixins. Best tacos of LA. Tito's happens to be right around the corner (in LA speak…ie about a mile) from The Museum of Jurrassic Technology. Describing this place would require a whole post, if not a book, so just take my word for it that its the jumpoff for all you artistic/science types
After watching the Celtics lose (we wanted to win at home anyway) I got mentally prepared for the fact that in a few hours I was going to play AFTER DJ AM at his Banana Split Sundays party at club LAX. When I arrived, Mike B was warming it up in the classiest way possible, Gina Turner and I got to know each other a little better and I tried not to pee my pants in anticipation. A few minutes before his set, AM showed up with Will.I.Am in tow (turns out he's a regular, but still!!) and got down to business. I'd never seen AM play, and believe the hype. The man is graceful with his craft and is in complete control. As the clock approached 1, I pumped myself up to do my thing. It must have been the fact that the night and I share the same fruit in our names, but I'm going to selfishly go on the line and say that I tore the roof off the building. AM was watching and nodding his head, Will.I.Am was getting buck in front of the decks and checking for my records ("you made this??") and the dancefloor was going wild. In an email from AM the next day, I got a heap of praise for my work. I'm not gonna get into too much corniness here, but I'll just say that all of this means a lot to me.
Sammy B's Produce 'O the Day: Bananas
Biggest Chune of the Night: Lil Wayne – A Milli b/w Jay -Z – Ain't No Love (In The Heart of the City)

LA Day 3: STILL F'IN AWESOME
I had a lazy morning on Monday while eating lox and bagels over at Factor's Deli and getting a $50 parking ticket. At around 3 I hopped into my bathing suit and got ready for my activity of the day; a trip to the beach with Daniel from LA Riots. To me, Daniel encompasses all the best of the LA lifestyle, so I didn't want to go to the beach with anyone else. We headed up the Pacific Coast Highway to Malibu's Zuma beach. This picture commemorates the occasion, but we also took it because Daniel said it was the same shot as the cover of Incubus' "Morning View." (hmmm….) Also, the water was a LOT colder then I expected.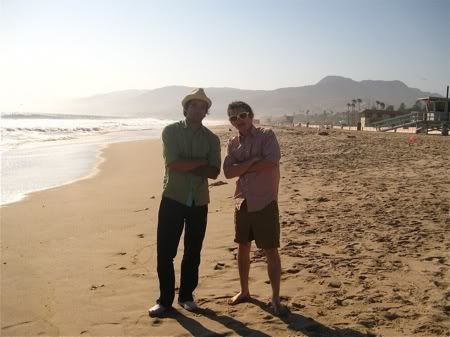 We raced back to the city just in time for me to go eat some uninspired Mexican food at a fancy spot in Beverly Hills with family friends. At the restaurant, I saw an unidentified celebrity get mobbed by paparazzi as she got out of her car and came into the place. Blah. After dinner, I headed over to Beauty Bar for the final installment of Franki Chan's Still Fucking Awesome party. The sound system and setup were a little janky, but it was a fun time nonetheless. It was good to see Flufftronix and I also helped the Acid Girls fine tune their masterful idea for Hipster Dance Karaoke. I was part of a strong Mustache Majority that night.
Sammy B's Produce 'O the Day: Red Onion
Biggest Chune of the Night: Sammy Bananas – Work Me
LA Day 4: CINESPACE / DANCE
Tuesday was pretty So-Cal mellow until the nighttime. I had a nice breakfast with a friend and then visited the Getty Center (one billion dollars worth of Wow), but things didn't start heating up until the tip off of NBA finals game 6. Rather then running down the game here, or getting emotional about the result, I'll just say that there is no question about who the champions were this year. "ANYTHING IS POSSIBLE!!" I took my Boston-high over to Cinespace to do my think at the Dim Mak Tuesdays night. Cinespace was the destination of my previous trip to LA, when my band Miss Fairchild played a Halloween party there almost 3 years ago. I arrived just in time to watch the same d-bag, jaded, old sound dudes do a check for Aussies Miami Horror and Gameboy/Gamegirl (forecast, check for my remix coming out soon for another Sweat It Out artist.) These sound guys were on some of the most patronizing bullshit that I've seen in a while, so the gas face to those guys.
I played first, but the room filled up fast and the people started moving. This party confirmed that LA really can get down. I mean, this is a party that happens every Tuesday and yet people still come out each week and get live. I have to admit that this is a quality that New York does not posses. Maybe people in California just aren't as stuck up as us North Easterners (duh.) This next anecdote pretty much confirms this fact. It turns out the Cesar, the DJ that I met in SF also does a Tuesday weekly called DANCE and he asked me to swing by and do a quick set. Cesar mentioned that it was an all ages party, but I don't think I fully realized what he was talking about until I was standing at the entrance of GIANT megaclub Aurora about to wade through a sea of 1300 kids on my way to the stage. Peep the video below. I got on the decks for a quick 20 minute set where I played exclusively music released by Fool's Gold and the extended fam. Promotion 101 son! I hope I can make it back to this party soon to do it official for the underage massive of Los Angeles.
I went back over to Cinespace for the end of the party, had a failed attempt to meet up with A-Trak big bro and Chromeo crooner Dave 1 and just decided to end my night without any more shenanigans. Even though I had a 4pm flight on wednesday, it seemed that most of the day was devoted to washing clothes, packing up and filling up the rental with $5 a gallon economy gas. Like I mentioned at the beginning of my visit LA, I think I have a better idea about what you're all about. You are quirky, have a endearingly exposed underbelly, are seemingly trapped in the 80s and certainly like to dance. You are still too spread out, have lots of smog and are "hella" expensive, but I hope to be back soon.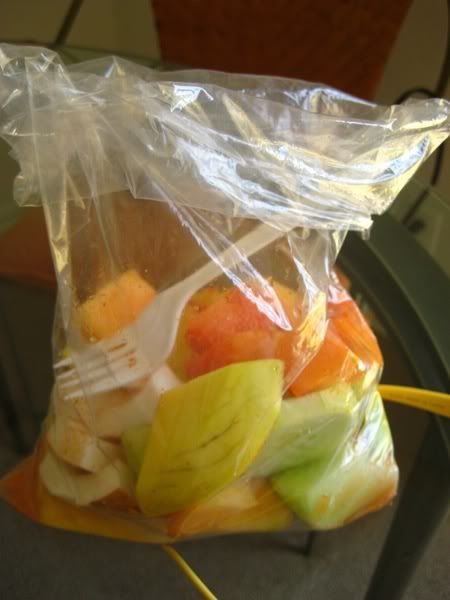 Sammy B's Produce 'O the Day: Chili/Lime Fresh Fruit Cocktail in plastic bag from street vendor. TRUTH!
Biggest Chune of the Night: Treasure Fingers – Cross The Dancefloor
CHICAGO:
I arrived around midnight in the 'Go screaming "Kells is Free" and was graciously picked up by my host Willy Joy, who was wearing some New Balances that looked like a taxi.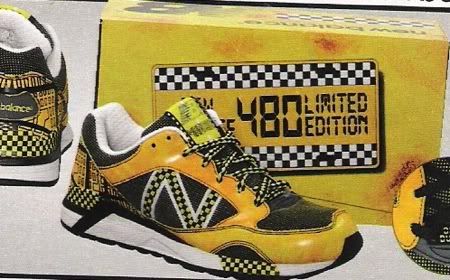 Willy and I go way back, and its always good to see him. We immediately headed over to catch the end of the Crystal Castles, Radiocl*t and Franki Chan show at the Double Door, but just missed it. In fact, I was almost tackled by Ms. Castle (who was not looking as good in person as she does in the promo photos… too much black eye shadow) as she ran out of the stage door onto the street. Thursday was pretty relaxed as I woke up late and spent most of the day working on music and catching up on emails. In the evening, I met up with some college buds for dinner in Wicker Park and then headed around the corner to Debonair Social Club for Willy's year strong Fly By Night party. FBN has changed venues a bunch of times in that year, but I can safely say that this is the best one yet. The party was a lot of fun, especially the final 10 minutes when the club was trying to kick me off the decks, but the crowd wouldn't let 'em! In a surprise appearance, LA's Morse Code showed up after being granted a rare night off from his breakneck schedule of providing CASINO HEAT™ to the models and bottles of America. Afterwards, we went over to Evil Olive to check out the dude Zebo's late night jump and he threw in a special Sammy B mini-set!
Friday was my only true day off on the tour, so I tried to live it up a little. I got a fancy haircut at the hands of Laura, (who also doubles as the girlfriend of my high school buddy Jed) hung out with another college friend and went to a street fair with Jed and Laura. It was there that the biggest musical surprise of the tour snuck up on me. The act performing at this street fair was none other than Mike Doughty, lead singer of Soul Coughing! This was probably the moment where I missed Certified Max the most, because he has a deep collection of SC bootlegs from the 90s and is a true fan. As I listened to Doughty do his gruff and repetitive take on the human condition, I got a bit emotional about Certified Bananas and how lucky I feel to be sort-of making a living being a musician. Real heads will know that the CB's classic Sprang featured a Soul Coughing song on it. I decided then that Max and I needed to unleash Sprang upon all the people who never bought the cd, a little more than 2 years after its release. So here it is, a goodie for getting through this essay of a blog post! After the street fair I popped over to Smart Bar to check out the US premier of Italian production/DJ duo Crookers (thanks Steve for the list spot!)
Sammy B's Produce 'O the Day: Limes (had Thai twice)
Biggest Chune of the Night: Mary J. Blige – Just Fine (Moto Blanco Mix)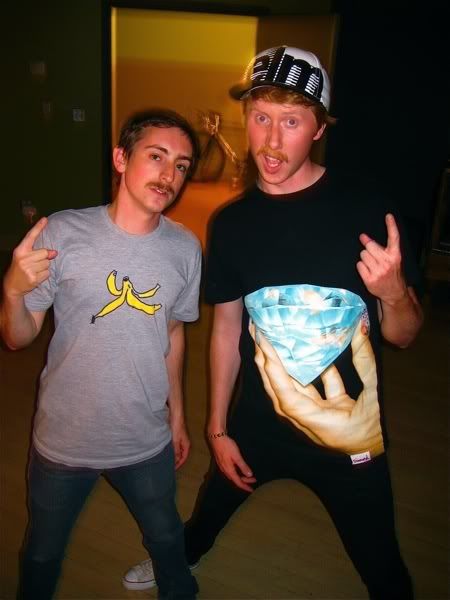 MILWUAKEE:
On Saturday I arrived at the final full day of the Summer of Sammy Tour. I had brunch with some family before hopping on a Megabus with direct service to Milwaukee. BTW these babies are double decker, something I wasn't aware of, which is a great strategy to keep your discount bus line in business in the age of $150 a barrel oil. The trip was supposed to be a cool hour and a half, so of course it actually took almost 3 and a half with the traffic. I was scooped up by Asher a.k.a Diamonds a.k.a half of electro party duo The Glamour. Asher is a great dude and musician and also the only person I've ever heard play the Certified B Cassidy/Aha mashup in a club. Erin OCD Automatic and Deirdre were in tow and we all headed to a place called Pepe's Pink Taco (no joke) for dinner. After that we headed to MOCT to play a night of crowd pleasers with the occasional contemporary dance number.

However, the real party didn't begin until the afterparty. We headed over to a loft in run down section of the city and danced to a loinclothed dj playing actual vinyl on a little home stereo system. I probably had so much fun because the whole thing really reminded me of Providence, my home for so many years. The girls who lived in this loft had these big plywood cut outs of mountains that they used as room dividers. There were probably only two dozen people there, but it was a perfect end to this tour. I got back to the hotel just as the sun was coming up, with enough time to get a few hours of sleep before catching the plane home. Again, I don't want to get super cheesy or too personal, but this was the longest time I've been out on the road on my own and 8 gigs in 10 days ain't half bad for a little cross country jaunt. This whole tour definitely felt like a step to the next level for me and I really want to thank everyone who made it possible by helping with shows or with making me feel welcome. I've had to make some big decisions recently, and this tour helped cement that I've made the right choices, at least for now. I can't wait to see you all again!
Sammy B's Produce 'O the Day: Fresh Prunes and Oranges at Lou Mitchell's
Biggest Chune of the Night: Paramount (rogerseventytwo mix) b/w Michael Sambello – Automatic Man